How do I compare

Medigap policies?

Different insurance companies may charge different premiums for the same exact policy. As you shop for a policy, be sure you're comparing the same policy (for example, compare Plan A from one company with Plan A from another company).

In some states, you may be able to buy a type of Medigap policy called Medicare SELECT (a policy that requires you to use specific hospitals and, in some cases, specific doctors or other health care providers to get full coverage). If you buy a Medicare SELECT policy, you have the right to change your mind within 12 months and switch to a standard Medigap policy.
Medigap policies are standardized
Every Medigap policy must follow federal and state laws designed to protect you, and it must be clearly identified as "Medicare Supplement Insurance." Insurance companies can sell you only a "standardized" policy identified in most states by letters A through D, F through G, and K through N. All policies offer the same basic benefits, but some offer additional benefits so you can choose which one meets your needs. In Massachusetts, Minnesota, and Wisconsin, Medigap policies are standardized in a different way.
The chart below shows basic information about the different benefits that Medicare supplement Plans cover.
If a percentage appears, the Medigap plan covers that percentage of the benefit, and you're responsible for the rest.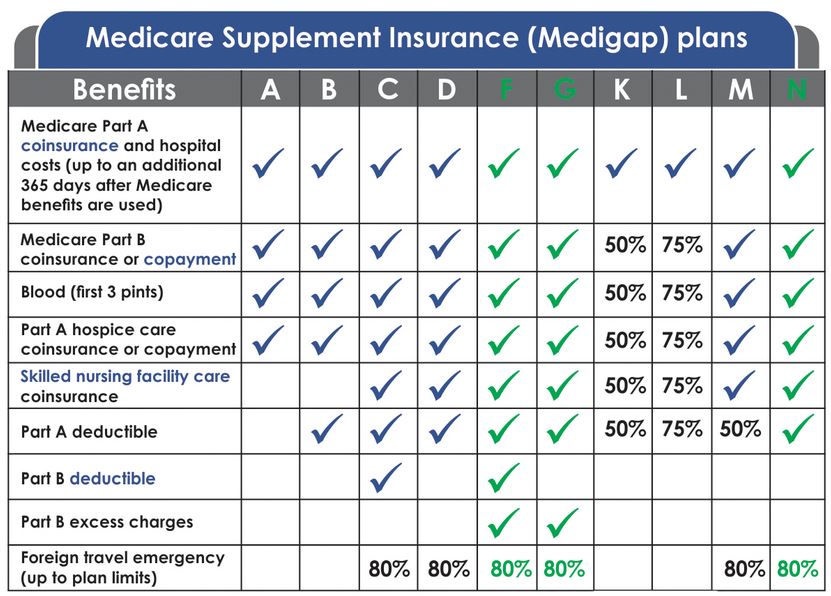 Note: Plans E, H, I, and J are no longer available to buy, but if you already have one of those policies, you can keep it. Contact your insurance company for more information.